2020 Incidents
Month
Fire
EMS
January
75
149
February
80
132
March
81
127
April
85
99
May
June
July
August
September
October
November
December
Total
321
507
Web Counters
Website Visitors
Since
December 19, 2013

Visitors Today
May 30, 2020

April 2018 Member of the Month
April 3, 2018
Tom Woodward is being recognized as the April 2018 member of the month for a multitude of different reasons. Tom sets the example for fellow members on a regular basis. Tom is always in proper PPE and steps off the truck ready for any task assigned to him. Tom's positive attitude and ability to take direction gives him the respect of his peers, in turn they look to him for assistance and guidance. Tom also has shown that he can operate fire apparatus in a safe and knowledgeable manner. Once at the scene, Tom understands what is expected of a pump operator and is always ready to learn another tip or trick from a senior member. In addition to being a fireground leader, Tom also is willing to assist with association functions. Tom is not afraid to be apart of a conversation and give his all to better the future for us. Specifically Tom understands the importance of recruiting new volunteers and most importantly retaining them so we can continue to be a leader in firefighting within Monroe County. Tom clearly is invested in this organization and we are lucky to have him with us.
On behalf of the line and civil office, we would like to congratulate Tom for his leadership and perseverance to help West Webster continue to strive to be the leaders in the fire service field.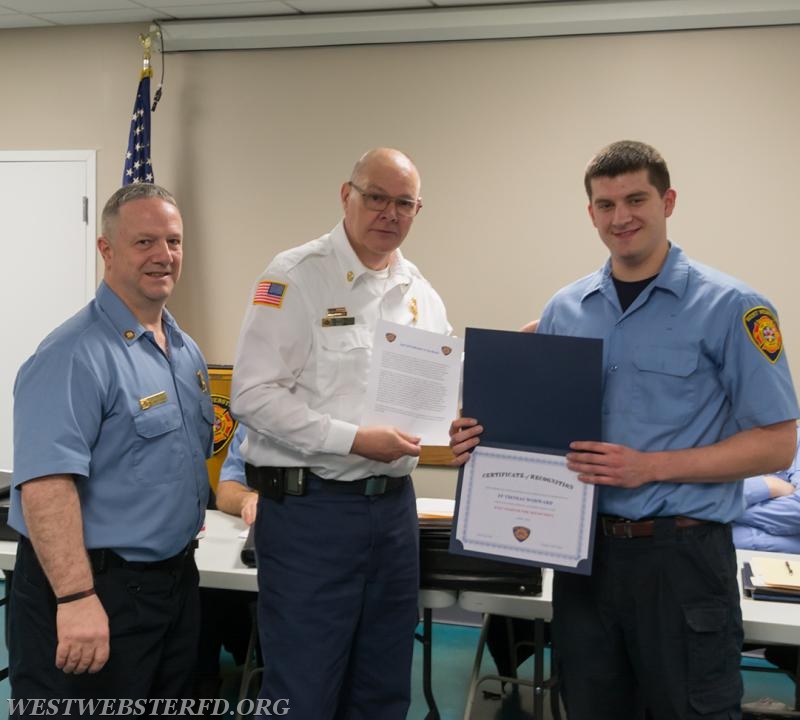 Chief Pratt and President Gligora presenting the April Member of the Month recognition to FF Woodward. Photo by: D. Crouch
Douglas Kulp
April 04, 2018 at 6:37 PM
Your knowledge goes a long way toward making "us" a leader in the Volunteer Service.

Thank You, and CONGRATULATIONS.
Juan Mestre
May 15, 2018 at 9:43 AM
Way to go Tom. Your a great example to my kids. It is great that example continues throughout your life. thank you for your service.